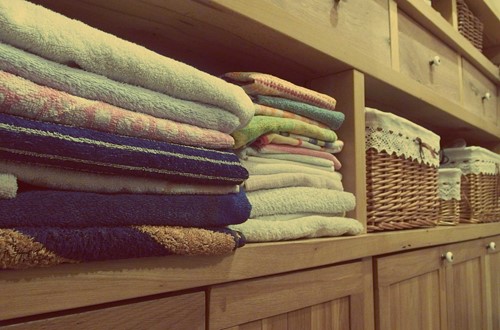 What do you picture when someone says 'laundry'? Is it piles of dirty clothes, sock singles lost to some undisclosed dimension, a moldy smell and lost hours? Or is it shrugging on a warm shirt straight from the dryer, lemon scent and the zen of folding: a little pocket of peace and quiet on a hectic, cold day?
People who fit into the latter category aren't from Stepford. Chances are, they've made the deliberate choice to craft a laundry room the way they design other rooms in their house: for their comfort, convenience, and in the case of the laundry room, for utility and ease of use.
Often a key component to creating a harmonious space is to minimize clutter. Check out these three tips for creating a clutterless, clean, and welcoming workspace!
Incorporate Drying Racks
Drying delicates can create a lot of clutter! Where do you put the stand-up drying rack? Where to put it when you've folded it away?
Solve that problem in a snap by making fold-away drying racks part of your interior design straightaway. You can easily purchase or create cabinet-style drying racks like these:
The bars swing down for ease of use, but when you release them, they snap upright to keep your drying clothes out of the way. Centsational Style shows you how to make your own here.
Alternately, you can incorporate rails on which to hang your clothing from hangers right in the laundry room, for things that are best dried while hanging, or just to store clothing that's clean and ready to wear. These rails are best incorporated under cabinets or a ledge that may not be in use.
Even small spaces can make use of this trick. Try creating a hanging bar, made simply from two thick, leather straps and a copper rod (or metal rod of your choosing). It looks incredibly upscale but would cost very little to make. Just fix two, 3-4 inch leather straps to a ledge or underneath weight-baring cabinets, then slide the rod through.
If you're feeling crafty, you might also consider making an old ladder into a drying rack for a farmhouse feel.
Keep Your Laundry Basket Space in Mind
Keep laundry baskets out of the way by creating drawers or shelving space for them. If you're staging a house, buy baskets that fit so that these drawers' purpose is clear to potential buyers -- and so no one has to hunt for the right-sized baskets later on.
You can also create a laundry basket holder of your own from freestanding shelving units if you don't have built-in drawers or have trouble finding a fitting that will work for your space.
Feeling crafty? Here's a great article on how to create a do-it-yourself mobile laundry basket holder.
Keep Your Ironing Board Out of the Way
Your ironing board can take up a lot of space if you keep it set up, and it can be a challenge to yank it forward out of a nook or wrestle it down from a high spot if you keep it folded.
Consider hanging it up on coat hooks. Be sure to hang it so that the cloth of the board (where you'd grip it to lift) is at shoulder height, making it easy to set down and hook back up.
You can make one of these from scratch using these instructions from The Inspired Hive, but you can just as easily purchase one and unscrew any extraneous hooks before hanging it.
Employ these space-saving tactics and your laundry room will be a calm, peaceful, and orderly oasis!