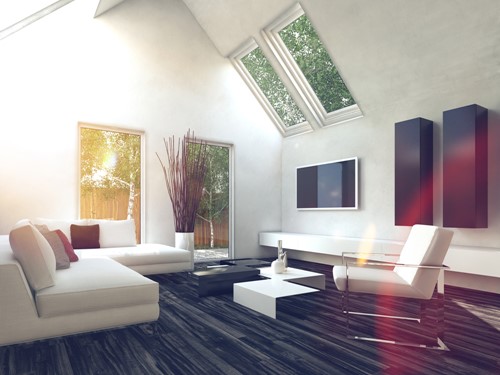 Image by PlusONE from Shutterstock
The presence of natural light inside of your living space can have a tremendous impact on how you feel in your home. If you're interested in introducing more daylight into your space consider installing a skylight or light tube.
What are skylights?
A traditional skylight is a window set into the roof of your home. They bring light into the room from above. Many skylights are fixed but others open up to allow fresh air and ventilation. Higher-end options may include options like preinstalled blinds, tinted glass, power openers, and screens. Because they are installed from the roof, skylights are a great solution for bringing natural light into a finished attic space or a central stairway that might not have walls that connect with the exterior of the house.
What is a light tube?
Sometimes, you can't install a traditional skylight. When your home has a large attic, the skylight must recess through the attic to the room to let the light shine into the room. Since this doesn't always work, an alternative is to install a light tube. These are shafts that pass from a domed glass in the roof into a room below the attic. The tube may have mirrors that reflect daylight down into the room even if the exit is not directly overhead. An advantage of a light-tube style skylight is that the exit location does not have to be directly above the room at all. It may even exit from a sidewall.
The tube bends or reflects the light, so there are diverse architectural applications. You might install one in a shower, to light up a dark niche or even in a closet. Light tubes typically include LED lights, so they are useful both day and night.
If the light tube or skylight is installed correctly, it retains and enhances the home's energy efficiency, and complements the home's design features. If you're planning to install a skylight in a home you intend to sell, discuss the advantages with your local real estate professional to determine the return on your investment.